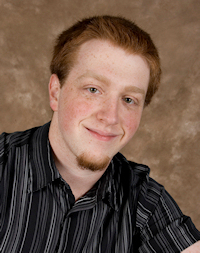 Joshua Kurtz
After writing and producing the highly aclaimed True Villains - The Musical, Joshua Kurtz completed his second stage work, the workshop production of 'Till Death do us Part - The Musical.
Joshua has been writing since he was a child, and his topics are generally very unique, going against the grain of the usual entertainment industry. He works in-between school and other extracurricular activities, most of which involve acting. Kurtz has long had an interest in all that is supernatural, so most everything he writes takes place in a fantasy setting. And though 'Till Death takes place in a realistic, present day setting, it is sprinkled with fantasy elements.
Joshua Kurtz is active in community theater, and has appeared in such productions as Guys and Dolls, Ragtime, Pippin and Aida to name a few. Kurtz has also appeared in several film shorts by Dominic Fera. He has also toured in the United States and United Kingdom with The Young Americans as a student, workshop instructor, and performer.